Bifida Biome Concentrate Cream
Regular price

245

Sale price

170
Formulated with a patent ingredient Bifida BiomeTM and ceramides strengthens the skin barrier, moisturizes and softens the skin while preventing premature aging. It improves firmness and elasticity while diminishing the appearance of dark spots.
Size: 50ml
Paraben-Free, Sulfate-Free, Alcohol-Free, Silicone-Free, EU Allergen-Free.
تم تركيبه من مكون حاصل على براءة اختراع وهو بيفيدا بايوم والسيراميد حتى يقوي حاجز البشرة ويرطب وينعم البشرة ويمنع الشيخوخة المبكرة. وحتى يحسن من قوام ومرونة البشرة ويقلل من مظهر البقع الداكنة
الحجم: 50 مل
خالي من البارابين, خالي من السلفات, خالي من الكحول, خالي من السيليكون, خالي من أي مسببات للحساسية, مكونات قليلة
Ingredients

Bifida Ferment Lysate (62%), Butylene Glycol, Caprylic/Capric Triglyceride, Cetyl Ethylhexanoate, Glycerin, Squalane , Niacinamide, 1,2-Hexanediol, Cetearyl Alcohol, Polyglyceryl-2 Stearate, Cutibacterium Granulosum Ferment Extract Filtrate (10,000ppm), Coco-Caprylate/Caprate, Lactobacillus/Pumpkin Fruit Ferment Filtrate, Aureobasidium Pullulans Ferment, Betaine, Panthenol, Acetyl Hexapeptide-8, Palmitoyl Tripeptide-1, Copper Tripeptide-1, sh-Polypeptide-1, sh-Oligopeptide-1, Glyceryl Stearate, Stearyl Alcohol, Polyglyceryl-3 Methylglucose Distearate, Ceramide NP, Ceramide AP, Ceramide AS, Ceramide NS, Ceramide EOP, Epigallocatechin Gallate, Glyceryl Stearate SE, Sorbitan Stearate, Dipropylene Glycol, Isopropyl Myristate, Sodium Carbomer, Hydroxyethyl Acrylate/Sodium Acryloyldimethyl Taurate Copolymer, Glyceryl Caprylate, Sodium Hyaluronate, Hydroxypropyltrimonium Hyaluronate, Hydrolyzed Hyaluronic Acid, Potassium Hyaluronate, Hydrolyzed Sodium Hyaluronate, Sodium Hyaluronate Crosspolymer, Hyaluronic Acid, Sodium Acetylated Hyaluronate, Water, Ethylhexylglycerin, Scutellaria Baicalensis Root Extract, Panax Ginseng Callus Culture Extract, Panax Ginseng Root Extract, Hydrogenated Lecithin, Phytosphingosine, Cholesterol, Hydrolyzed Algin, Stearic acid, Physalis Alkekengi Fruit Extract, Foeniculum Vulgare (Fennel) Fruit Extract, Phosphatidylcholine, Illicium Verum (Anise) Fruit Extract, Caramel, Dextrin, Rosa Damascena Flower Oil, Caffeine, Adenosine

محلل الخميرة المشقوقة (%62)، بوتيلين گلايكول، كابپريليك / كابريك ثلاثي الچليسريد، سيتيل إيثيل هكسانوات، گلسيرين، سكوالين، النياسيناميد، 1،2-هيكسانديول، كحول السيتاريل، پوليگليسيريل -2 ستيرات، مستخلص حبيبات كيوتيباكتيريوم المخمر والفلتر (10000 جزء في المليون)، كوكو-كابريليت / كابراتي، القرع المخمر والمفلتر، زملول كرمي مخمر، البيتين، الپانثينول. أسيتيل هيكساپپتيد -8، بالميتويل تريپپتيد -1، ثلاثي الپپتيد النحاسي -1، sh- بولي پپتيد -1،-shأوليغوپپتيد -1، گليسيريل، ستياريلي الكحول،  پوليگليسيريل - 3، ميثيل گلوكوز ديستيرات، سيراميد NP، سيراميد AP، سيراميد AS، سيراميد NS، سيراميد EOP، يبيگالوكاتشين گالات، گليسريل ستيرات SE، سوربيتان ستيرات، ثنائي برپبيلين گلايكول، إيزوپروپيل ميرستات، كربومير الصوديوم، هيدروكسي إيثيل أكريليت / الصوديوم أكريلويدي ميثيل تورات كوبولپمر، گليسريل كابريليت، هيالورونات الصوديوم، هيالورونات هيدروكسي پروپيل تريمونيوم، حمض الهيالورونيك المتحل، هيالورونات البوتاسيوم، هيالورونات الصوديوم المتحللة، هيالورونات الصوديوم كروسپوليمر ، حمض الهيالورونيك، هيالورونات الصوديوم أسيتيل، ماء، إيثيل هكسيل گلسرين،  مستخلص جذر قلنسوة بايكال، مستخلص جذر الجينسنگ كالس،  مستخلص جذر الجينسنگ، الليسيثين المهدرج، فيتوسفينگوزين، الكوليسترول، حمض الألجينيك، حمض الستياريك، مستخلص فاكهة كرز القدس، مستخلص فاكهة الشمر، فسفاتيديل كولين، مستخلص فاكهة اليانسون، الكراميل، الدكسترين مادة صمغية، زيت زهرة الورد الدمشقي، الكافيين، الأدينوزين.

 
How To Use

Use this product after your serum during the morning and evening skin care routine. Apply an adequate amount and gently pat it on the skin and neck.

يستخدم هذا المنتج بعد السيروم خلال روتين العناية بالبشرة في الصباح والمساء. توضع كمية مناسبة على البشرة والرقبة ويطبطب برفق. 
Share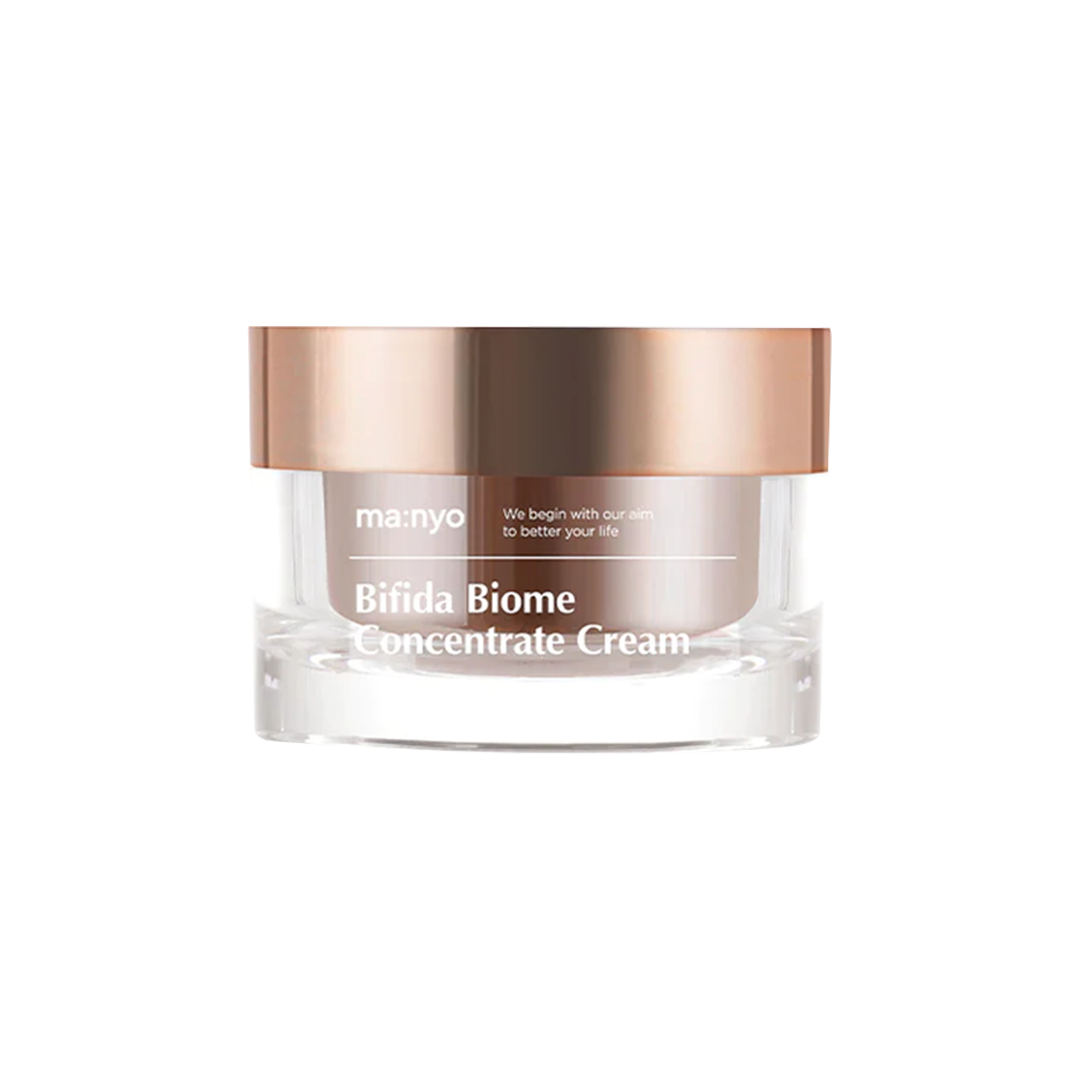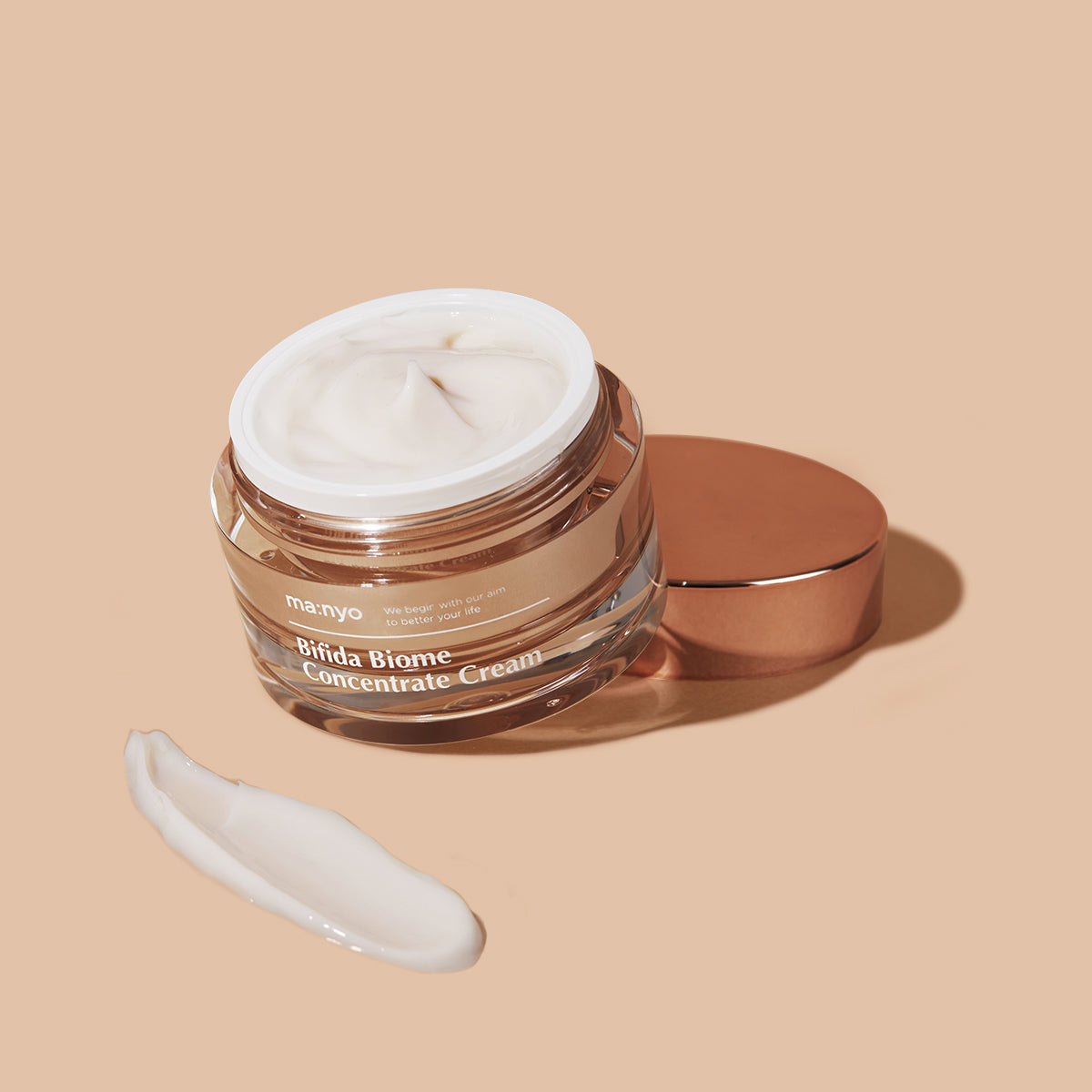 Bifida Biome Concentrate Cream
Magic ✨
My Go-To moisturiser for day & night. It's the perfect combination of a lightweight non-sticky formula that still gives rich moisture to the skin and it leaves my skin feeling super soft and firm.