Propolis Ampule Mist
Regular price

135

Sale price

90
Formulated with propolis extract that intensely nourishes the face. This mist provides hydration to dehydrated and dull skin to restore radiance while keeping the skin moisturized and glossy throughout the day. Comes with a uniquely designed spray nozzle that allows ultra-fine mist particles to sit and penetrate the skin for long-lasting radiance, moisture, and glow.
Size: 100ml
Cruelty-Free
يتكون من مستخلص البروبوليس الذي يغذي البشرة بشكل مكثف. يوفر هذا البخاخ ترطيبًا للبشرة الجافة والباهتة لاستعادة إشراقتها مع الحفاظ على ترطيبها ولمعانها طوال اليوم. يأتي البخاخ مع فتحة رش مصممة بشكل فريد تسمح لجزيئات البخاخ فائقة الدقة بالتغلغل في البشرة لإشراقة طويلة الأمد وترطيب وتوهج.
لم يتم إختباره على الحيوانات
الحجم: 100 مل
Ingredients

Purified water, propanediol, glycerin, 1,2-hexanediol, propolis extract (1%), dimethicone, sodium citrate, betaine, sorbitol, hydrogenated lecithin, sorbitan sesquioleate, blood Easy-60 Hydrogenated Castor Oil, Citric Acid, Scented Geranium Flower Oil, Butylene Glycol, Pentylene Glycol, Hyaluronic Acid, Panthenol, Hydroxyphenyl Propamidobenzoic Acid, Glunolactone , Lactobanic Acid, Pantolactone, Ascorbyl Palmitate, Disodium ID, Citronolol, Geraniol

ماء مقطر، پروپانديول، گلسيرين، 1،2 - هيكسانديول، مستخلص صمغ النحل (1٪)، ثنائي الميثيكون، سترات الصوديوم، البيتين، السوربيتول، الليسيثين المهدرج، السوربيتان سيسكيوليات، بيغ - 60 زيت الخروع المهدرج، حمض الستريك، زهرة الغرنوقي المعطر، بوتيلين گليكول، پنتيلين گلايكول، حمض الهيالورونيك، الپانثينول، حمض الهيدروكسيفينيل پروپاميدوبنزويك، گلوكونولاكتون، حمض اللاكتوبيونيك، بانتولاكتون، پالميتات الأسكوربيل، ثنائي الصوديوم ID، السترونولول، جيرانيول
How To Use

Use it whenever your skin feels dry or dehydrated. Close your eyes and spray onto the entire face evenly from 20-30cm distance. Mists are spritzed onto the face at any time throughout the day for a nice cooling burst and for hydration. Can be used on top of makeup or for relieving any sensitivity and sunburn.

For Muslims who need a hydration boost after their Ablution before their prayers. They may spray the mist after ablution followed with moisturizer if they still need more moisture.

يمكن استخدامه عند الشعور بأنه البشرة جافة وغير رطبة. وأغمضوا أعينكم وبعدها يرش على الوجه بالكامل بالتساوي من على بعد مسافة 20-30 سم.

يتم رش البخاخ على الوجه في أي وقت على مدار اليوم لتبريد لطيف وترطيب. يمكن استخدامه فوق المكياج أو للتخفيف التحسس وحروق الشمس.

للمسلمين الذين يحتاجون إلى زيادة الترطيب بعد الوضوء قبل صلاتهم. يمكن رش البخاخ بعد الوضوء متبوعًا بالمرطب إذا احتاجوا إلى مزيد من الترطيب.
Share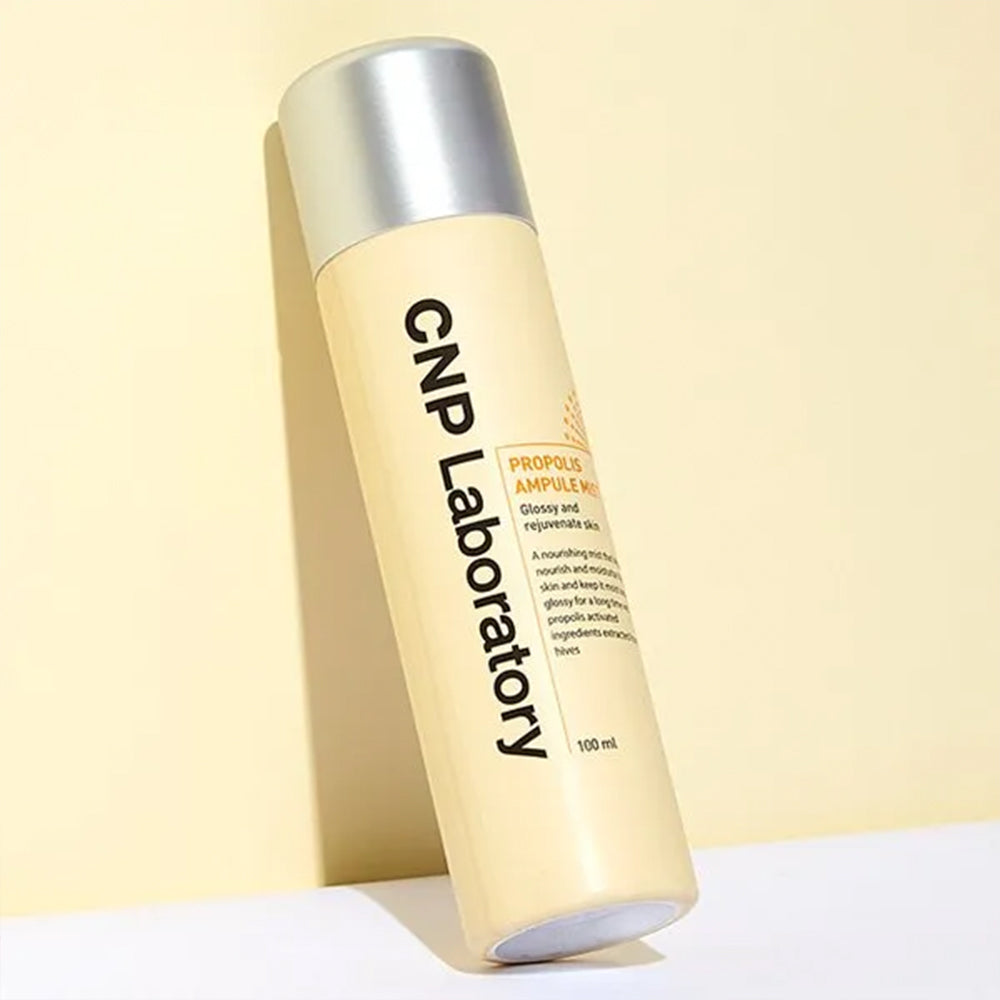 Obsessed 🤩
The product I never knew I NEEDED until now! Some people might not think adding a mist to their skincare routine would make much of a difference but this product has made a massive difference to my skin. I take it everywhere with me and spray after a workout, after being under AC for a long time, after Wudu, on top of make up … I always thought my skin was on the dry side but I never knew how dehydrated it was until I started using this mist.
A Game Changer
With the scorching heat outside, this mist is a game changer. We may not be so aware of it but this weather and humidity makes it difficult for our skin to cool itself down. We constantly re-apply our lip balms but leave our skin forgotten. The spray is very subtle and does not leave you looking drenched like a wet dog, it gives you a natural glow and leaves a sweet natural scent. My friends and I find ourselves reaching for it throughout the day. 10/10 would recommend.