Repair Shampoo R
Regular price

145

Sale price

95
Moremo Repair Shampoo R reconstructs the protein binds with the hair cuticle with its 17 different vegetable-derived Amino Acids, allowing the hair to retain more moisture. The initial wash will help reduce the porosity of the hair strand making it more resilient against heat, mechanical and chemical damage.
يعيد  شامبو إصلاح الشعر التالف R من موريمو بناء روابط البروتين للشعر من خلال 17 من الأحماض الأمينية المشتقة من الخضار مما يسمح ذلك للشعر بالاحتفاظ بمزيد من الترطيب. يساعد الغسل الأولي في تقليل مسامية خصلة الشعر مما يجعلها أكثر مقاومة للحرارة والضرر الميكانيكي والكيميائي.
Free of Paraben, Sulfates, and Silicone
Size: 300ml
Cruelty-Free
Ingredients

Water, Cocamidopropyl Betaine, Sodium Cocoyl Alaninate, PEG-7 Glyceryl Cocoate, Sodium Chloride, Sodium C14-16 Olefin Sulfonate, Sodium Cocoyl Glutamate, Hydroxyethyl Urea, Parfum, Polyquaternium-6, Ceteareth-60 Myristyl Glycol, PEG-150 Distearate, Lauramidopropyl Betaine, Menthol, Sodium Benzoate, Caprylyl Glycol, Panthenol, Glycerin, Salicylic Acid, Sodium Lactate, Citric Acid, Disodium EDTA, Caprylhydroxamic Acid, Lavandula Angustifolia (Lavender) Flower Water, Salvia Officinalis (Sage) Extract, Rosmarinus Officinalis (Rosemary) Leaf Extract, Corchorus Olitorius Leaf Extract, Caulerpa Lentillifera Extract, Opuntia Ficus-Indica Extract, Centaurea Cyanus Flower Water, Spirulina Platensis Extract, Adenium Obesum Leaf Extract, Nelumbo Nucifera Flower Extract, Chamomilla Recutita (Matricaria) Flower Extract, Avena Strigosa Seed Extract, Lecithin, Hydrolyzed Corn Protein, Hydrolyzed Soy Protein, Hydrolyzed Wheat Protein, Glycine, Glutamic Acid, Lysine, Leucine, Methionine, Valine, Serine, Cysteine, Aspartic Acid, Alanine, Arginine, Isoleucine, Tyrosine, Threonine, Phenylalanine, Proline, Histidine, Porphyra Umbilicalis Extract, Caesalpinia Spinosa Gum.

ماء، بيتاين پروپيل كوكاميد، ألانين كوكويل الصوديوم، PEG-7 گليسريل كوكوات، كلوريد الصوديوم، أوليفين سلفونات الصوديوم C14-16، گلوتامات كوكويل الصوديوم، هيدروكسي إيثيل اليوريا، عطر، پولي كواتيمينيوم 6، سيتاريث 60 ميريستيل گلايكول،  PEG-150 ديستيرات، بيتين لوراميدو پروپيل، منثول، بنزوات الصوديوم، كاپريل گلايكول، پانثينول، گلسيرين، حمض الساليسيليك، لاكتات الصوديوم، حمض الستريك، ثنائي الصوديوم EDTA، حمض الكاپريل هيدروكساميك، ماء زهرة اللاڤندر، مستخلص الميرمية، مستخلص أوراق اكليل الجبل، مستخلص أوراق الملوخية، مستخلص الزوحيفان العدسي، مستخلص التين الهندي، ماء زهرة الذرة، مستخلص طحالب سپيرولينا پلاتنسيس، مستخلص أوراق شجرة العدنة، مستخلص أوراق زهرة اللوتس، مستخلص زهرة البابونج، مستخلص بذور الشوفان الأسود، الليسيثين، بروتين الذرة المتحلل، بروتين الصويا المتحلل، بروتين القمح المتحلل، گلايسين، حمض الگلوتاميك، ليسين، ليوسين، ميثيونين، ڤالين، سيرين، سيستين، حمض الأسپارتيك، ألانين، أرجينين، إيزوليوسين، تيروسين، ثريونين، فينيل ألانين، الپرولين، الهيستيدين، مستخلص الپورفيرا أمبيليكالي (الطحالب الحمراء)، صمغ سيسالپينيا سپينوزا.
How To Use

Apply a considerable amount on your hands and lather it to create a foam.

Use the foam to cleanse the hair by gently massaging and focusing on hair ends and wash thoroughly for effective results. (can be used on the scalp as well)

Rinse with lukewarm water and then apply conditioner and follow a normal hair routine.

توضع كمية مناسبة على اليدن ومن ثم تفرك لتكون الرغوة. 

تستخدم هذه الرغوة لتنظيف الشعر عن طريق تدليكه برفق مع التركيز على أطراف الشعر وبعدها يشطف الشعر جيدا للحصول على نتائج فعالة. (بامكانك ايضا استعمال الشامبو على فروة الرأس) 

من ثم يشطف الشعر بالماء الدافئ ويوضع بعدها البلسم ويتم اتباع روتين الشعر المعتاد.
Share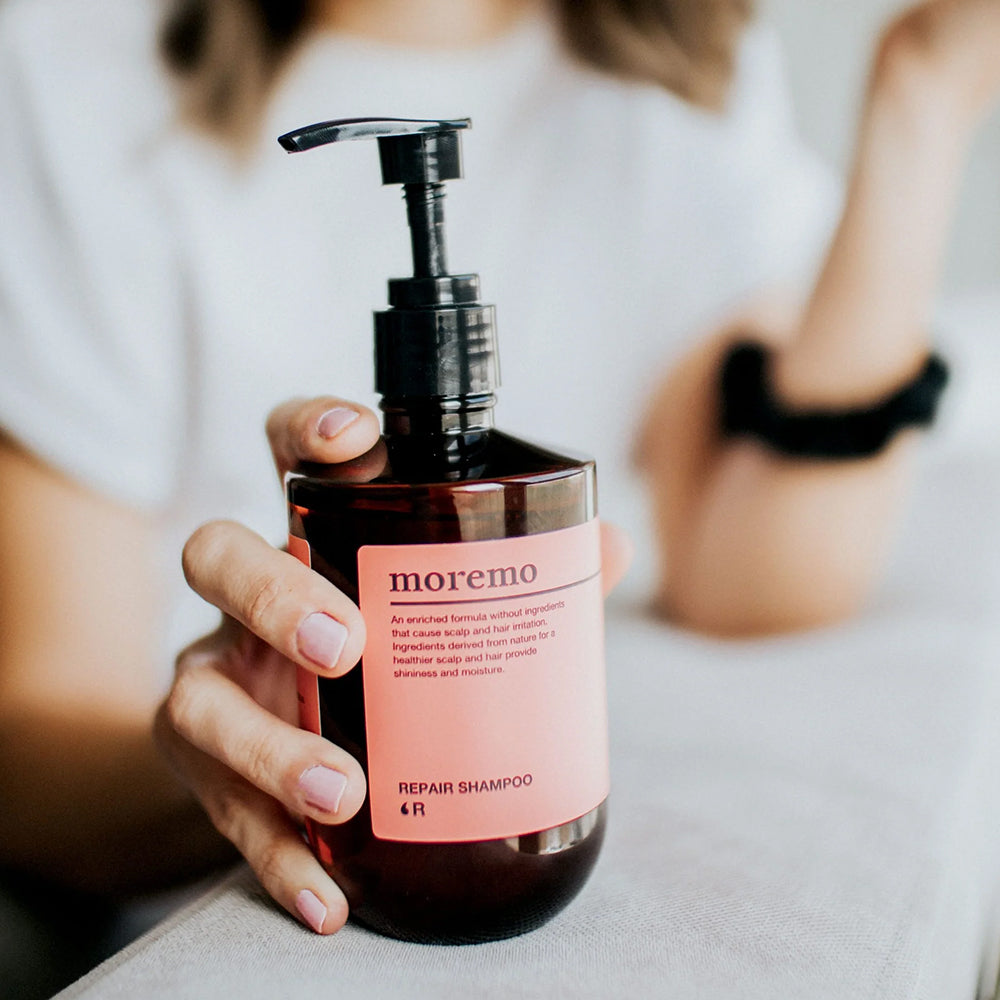 A hair care essential 🙌🏻
After trying the miracle water from Moremo and loving it, I decided to try out the shampoo too. And I'm a huge fan! I have noticed my hair falling less, feeling fuller & thicker and looking more shiny 😍
Amazing!!
In complete awe of how soft and manageable it leaves my hair. Plus, using the water miracle treatment after shampoo is like cherry on the cake. Highly recommended!