Teatree Purifying Mask
Regular price

175

Sale price

110
Teatree purifying wash-off face mask works on deep cleansing, soothing, moisturizing, and brightening up the complexion. Innovated with a fine dust technology that has been clinically tested for 96% fine dust removal. It contains 100,000ppm Tea tree extracts that have antioxidant and antibacterial properties. Heartleaf extracts for calming irritated skin and pore care. 
يعمل ماسك شجرة الشاي المنقي على التنظيف العميق وتهدئة وترطيب البشرة وإعطائها إشراقة. مُبتكر بتقنية الغبار الدقيقة التي تم اختبارها كلنكيًا لإزالة الغبار الناعم بنسبة 96٪. يحتوي على 100000 جزء في المليون من مستخلصات شجرة الشاي التي لها خصائص مضادة للأكسدة ومضادة للبكتيريا. مستخلصات نبات الحرباء لتهدئة البشرة المتهيجة والعناية بالمسام.
Size: 80ml
Cruelty-Free
Ingredients

Water, Glycerin, Melaleuca Alternifolia (Tea Tree) Leaf Extract, Methylpropanediol, Betaine, 1,2-Hexanediol, Propanediol, Juniperus Communis Fruit Extract, Portulaca Oleracea Extract, Centella Asiatica Extract, Ficus Carica (Fig) Fruit Extract, Aloe Barbadensis Leaf Extract, Melia Azadirachta Leaf Extract, Melia Azadirachta Flower Extract, Lavandula Angustifolia (Lavender) Extract, Ocimum Basilicum (Basil) Flower/Leaf Extract, Coccinia Indica Fruit Extract, Rosmarinus Officinalis (Rosemary) Leaf Extract, Althaea Officinalis Leaf/root extract, Chamomilla Recutita (Matricaria) Flower Extract, Houttuynia Cordata Extract, Foeniculum Vulgare (Fennel) Fruit Extract, Theobroma Cacao (Cocoa) Seed Extract, Solanum Melongena (Eggplant) Fruit Extract, Buddleja Davidii Extract, Aloe Barbadensis Flower Extract, Thymus Vulgaris (Thyme) Extract, Brassica Oleracea Italica (Broccoli) Extract, Ocimum Sanctum Leaf Extract, Curcuma Longa (Turmeric) Root Extract, Corallina Officinalis Extract, Citrus Aurantium Dulcis (Orange) Oil, Pyrus Malus (Apple) Fruit Water, Sodium Hyaluronate, Citrus Nobilis (Mandarin Orange) Peel Oil, Hydrogenated Lecithin, Litsea Cubeba Fruit Oil, Ceramide NP, Polyglyceryl-10 Laurate, Panthenol, Carbomber, Tromethamine, Houttuynia Cordata Powder, Xanthan Gum, Glyceryl Polymethacrylate, Disodium EDTA, Bioflavonoids, Dextrin, Ethylhexylglycerin.

ماء، گلسيرين، مستخلص أوراق شجرة الشاي، ميثيل پروپانديول، بيتين، 1،2 -هيكسانديول، پروپانديول، مستخلص فاكهة العرعر الشائك، مستخلص پورتولاكا أوليراسيا (البقلة)، مستخلص السينتيللا أسياتيكا، مستخلص فاكهة التين، مستخلص أوراق الصبار، مستخلص أوراق شجرة الليلك الهندي، مستخلص زهرة شجرة الليلك الهندي، مستخلص نبات الخزامى، مستخلص زهرة/أوراق نبات الريحان، مستخلص فاكهة كوكسينيا إنديكا، مستخلص أوراق إكليل الجبل، مستخلص الأوراق/جذور الختمية الطبية، مستخلص زهرة البابونج، مستخلص نبات الحرباء، مستخلص فاكهة الشمر، مستخلص بذور الكاكاو، مستخلص فاكهة الباذنجان، مستخلص شجيرة الفراشة، مستخلص زهرة الصبار، مستخلص الزعتر، مستخلص البروكولي، مستخلص نبات الحبق، مستخلص جذر الكركم، مستخلص نبات كورالينا اوفيسيناليس، مستخلص زيت البرتقال، ماء التفاح، هيالورونات الصوديوم، زيت قشر برتقال الماندرين، الليسيثين المهدرج، زيت فاكهة ليتسي كوبيبا، سيراميد NP، بوليگليسيريل - 10 لوريت، پانثينول، كروپمير، تروميثامين، بودرة نبات الحرباء، صمغ الزانثان، پولي ميثيل ميثاكريلات، ثنائي الصوديوم EDTA، بيوفلافونويدس، الدكسترين مادة صمغية، إيثيل هكسيل گلسرين. 
How To Use

Use after your cleanser, two times a week.

Apply on damp skin using the spatula provided, avoiding the eye and lip area. Leave on for 15 minutes, then dampen the sponge provided to remove the mask and rinse your face with water.

يستخدم بعد الغسول مرتين في الأسبوع.

توضع طبقة متساوية على بشرة رطبة مع تجنب منطقة العين. تم يترك لمدة 15 دقيقة، بعدها يُغسل بالماء الدافئ.

يوضع الماسك على بشرة رطبة باستخدام الملعقة مع تجنب منطقة العين والشفتين. يترك الماسك لمدة 15 دقيقة من ثم تبلل الإسفنجة المزودة لإزالة الماسك ويشطف الوجه بالماء بعدها.
Share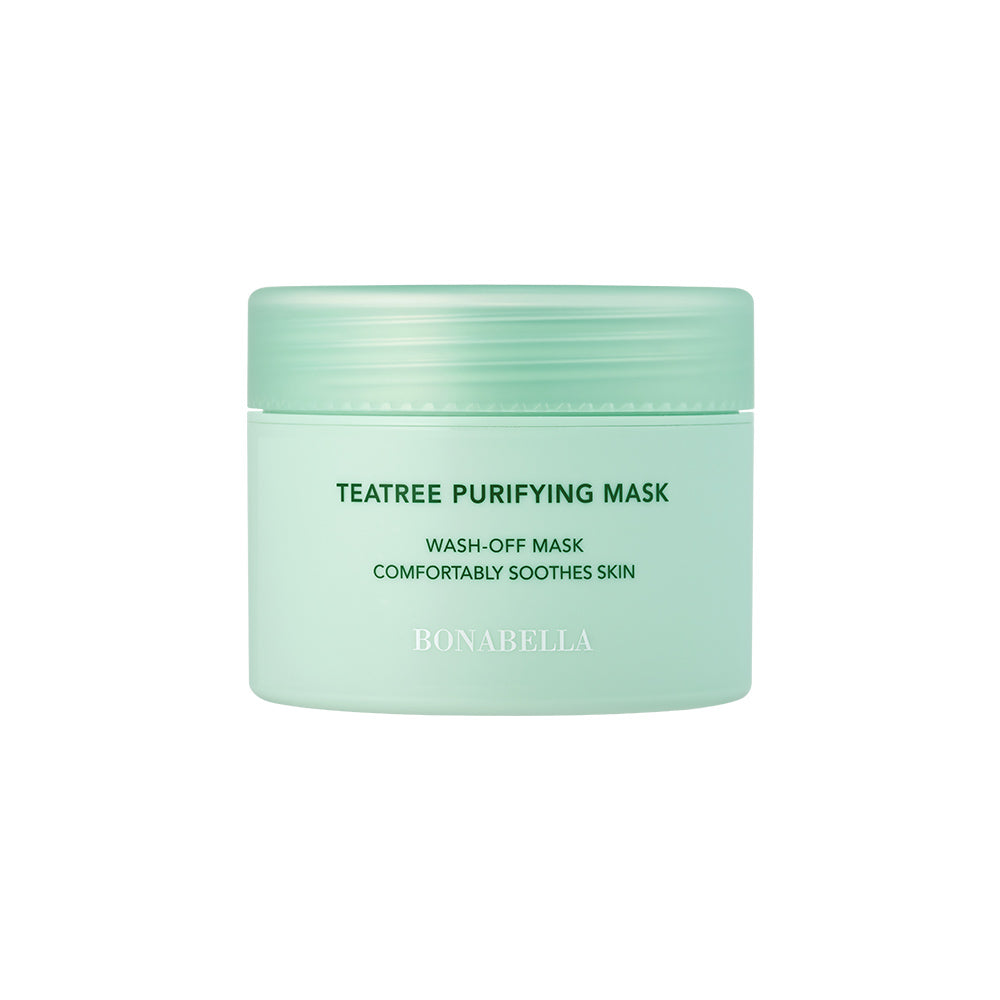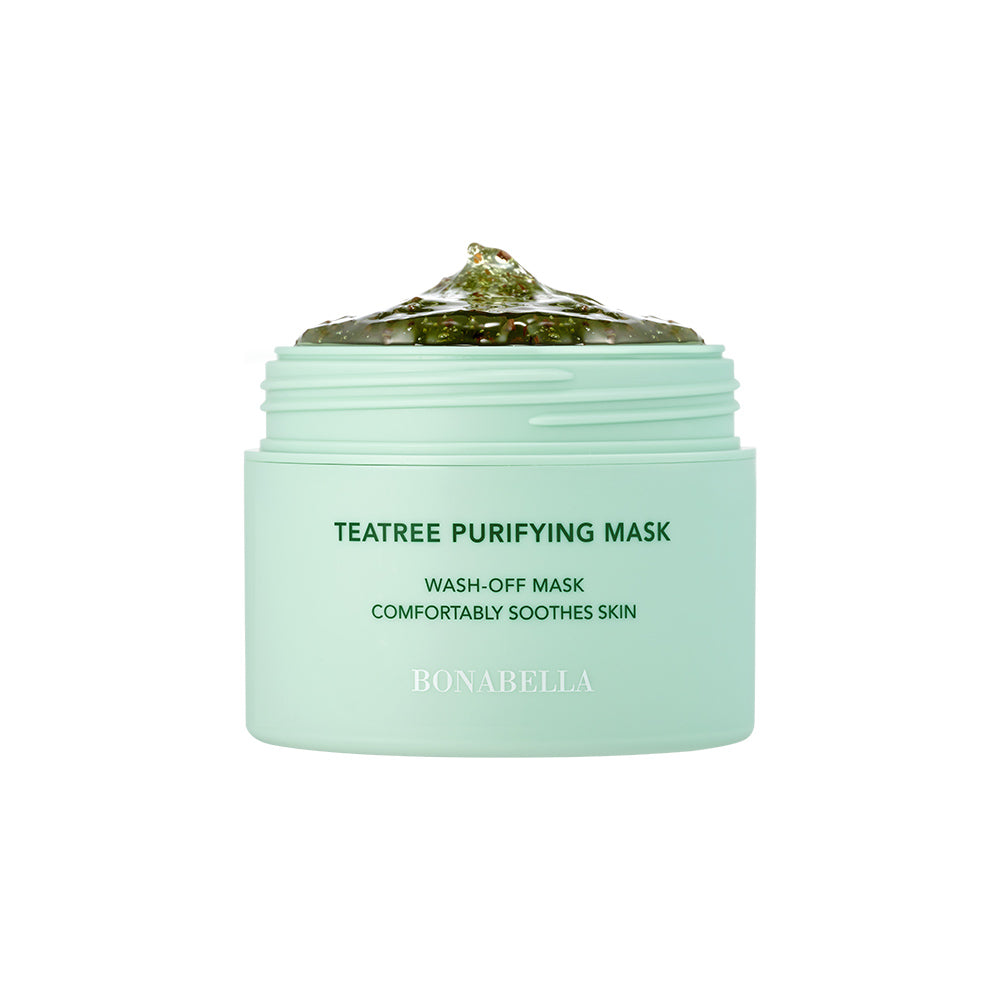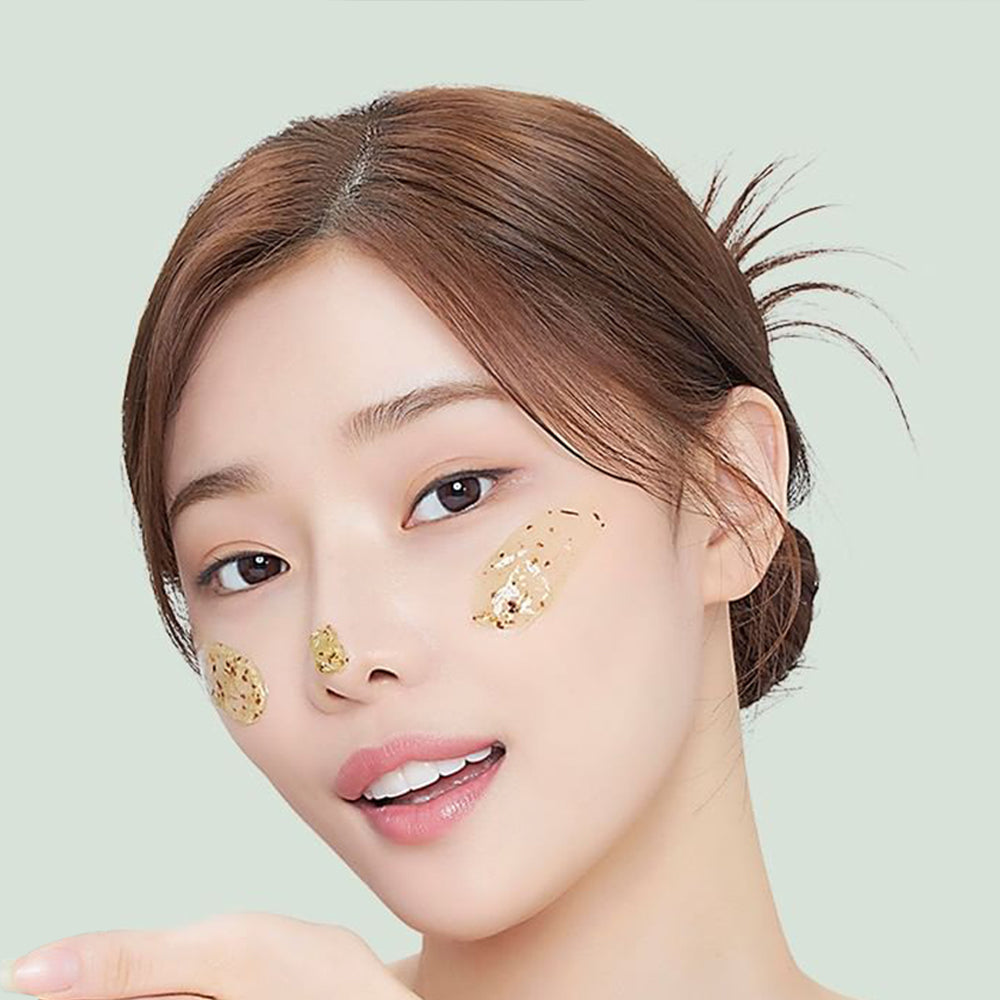 Self-care days are an absolute must!
Whenever I use Bonabella's Tea Tree Mask, it's like having a mini, relaxing spa session at home. The silky texture feels exceptionally moisturizing and soothing. Right after washing it off, my skin feels free of impurities, smooth as ever and my complexion looks so much brighter! It has Tea Tree extract, which I am a huge fan of, as it is incredible for skin calming and pore care.